My March break is over, and the week went by so quickly. I think it's the first time in a long time that I've actually taken a real break. For the past two and a half years, I've either been in school or I've been working full-time, or both.
But today's post is going to be about the most amazing Japanese izakaya in Montreal (at least that I know of). Ok, to be honest, I didn't even know what an izakaya was until I googled it on Wikipedia just now. According to
Wikipedia
, it's a Japanese bar that also serves food. That strikes me as surprising since it looks much more like a restaurant to me. Sure, it serves saké and Sappuro but other than that, it's all about the food.
Anyway, I went with my boyfriend last Saturday because I had tried it one other time with a friend for lunch. It was so delicious! The first time I went, I had the curry and it blew my mind. Not only was the food wonderful, it was very cheap, $7. The staff is extremely attentive and polite. They seem to genuinely love their job and were willing to help you with anything.
When I went with my boyfriend last Saturday, we didn't have to wait in line, which was surprising. That place is always packed unless you're there before they open. Within 5 mins of it opening, the place is full. But the place itself is very small, it can maybe seat about 30 people. I had ordered chicken meatballs for starters and the 48-hour pork rice as a main course. The reason it's called 48-hour pork rice is because it's been marinated for 48 hours and it was worth it! The pork was soft and very flavourful. The rice was fluffy and the portions, generous.
The chicken meatballs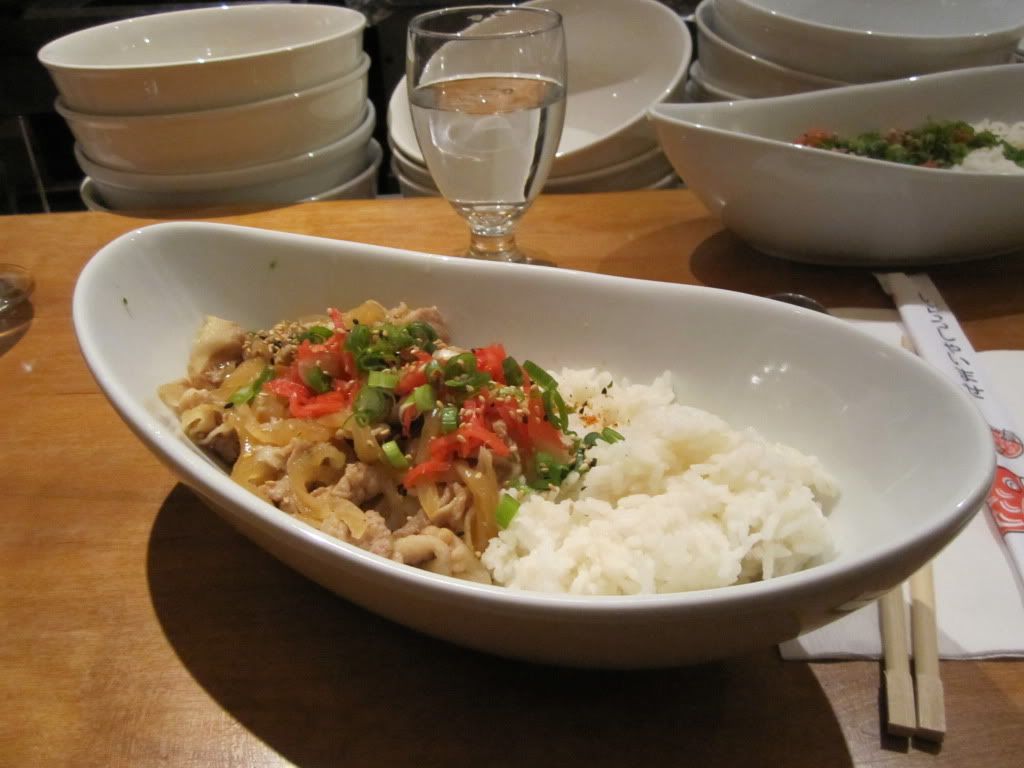 48-Hour Pork Rice
My boyfriend and I loved the restaurant so much, that we went back yesterday. We invited another friend to try it with us. Unfortunately, this time we weren't so lucky with the line-up. We waited for about half an hour before they were able to accommodate us. We ended up sitting at the bar in the exact same place as last time. I actually prefer sitting at the bar since you get to watch the chefs in action.
I ordered the Pork Cheeks with Baguettes as an appetizer and the Teriyaki Burger as the main course. The pork cheeks were good but they weren't amazing, as my boyfriend's starter was. The baguettes weren't actually baguettes but more like a pita. The pita was placed in the middle of the dish and what you do is you take a piece of the pita and put some of the pork, which is located around the dish and put some of the pork on it. It's basically a little sandwich. There was also some hot sauce and sweet sauce on the side. I preferred the sweet sauce than the hot sauce. I found that the hot sauce didn't complement the pork.
The Pork Cheeks
The main course, however, was fantastic. It was chicken meat instead of beef but it was so juicy. It was a pretty big portion, and I managed to finish it, even though I was pretty full afterwards. There was thin slices of lettuce in it and some very good sauce. I wasn't sure what it was, but it tasted a bit like mayonnaise. It might've been mixed with ketchup because it was a pink-ish hue. That burger was just fantastic. I can still taste it on my palette.
Teriyaki Burger
My boyfriend has the shrimp pancake as a starter and the pork neck. The shrimp pancake was really good. There was salad placed on top of it and it added a nice crisp to the whole flavour. The shrimp was very nice, not burnt or anything. But it was the pancake that made the whole dish. It was very creamy, surprisingly enough, and it was practically melted on your tongue the moment you put it in your mouth.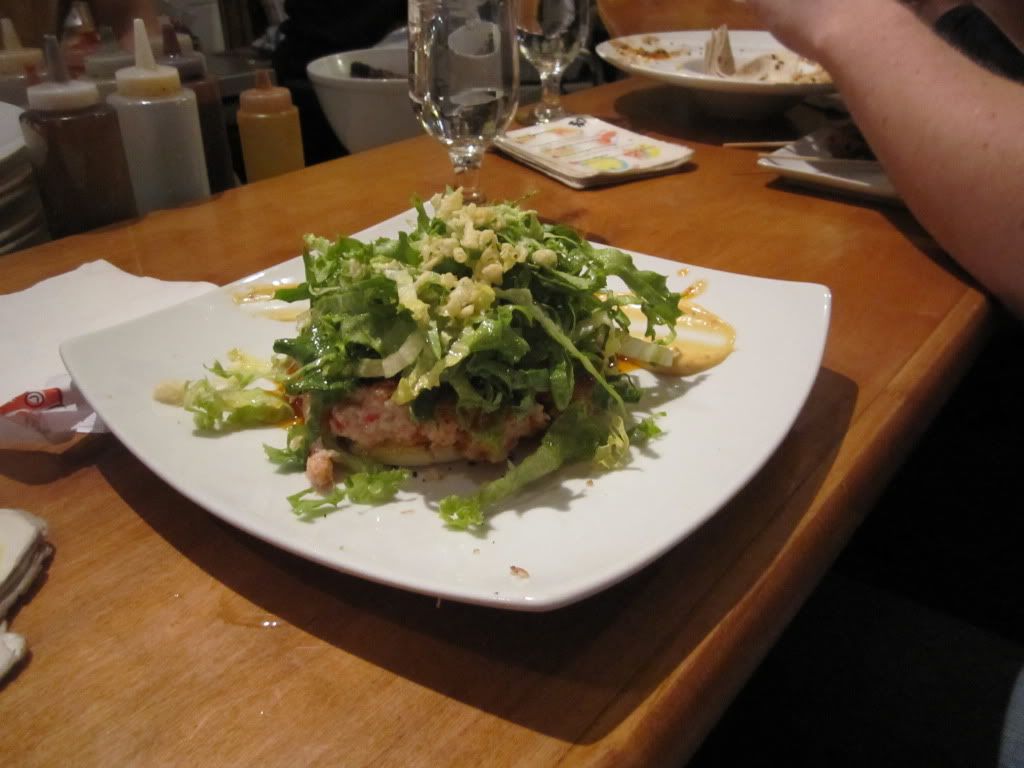 Shrimp Pancake
The pork neck was also very good. It was a bit tricky to eat since it was mostly bone but for whatever lack of meat there was on the pork, they up for it by giving you more pieces. It's pretty messy when you're eating this because you're basically using your hands. The waiter did give him extra napkins though. It was very tender and a bit sweet thanks to the sauce that they put on it. It wasn't burnt at all either.
Pork Neck
Even though I was stuffed, I had to order the Earl Grey ice cream. I know it sounds weird, because it's a type of tea. But waitress assured me that it was the best flavour and that I wouldn't regret it. I decided to be adventurous and go for it. Besides, I like Earl Grey so why not. Their ice cream is homemade and you can tell the difference. It wasn't as sweet as the ice cream you normally buy from the store. But it was creamy. There was Earl Grey powder sprinkled all on the surface of my ice cream and the waitress told me that it was real tea. It tasted great! I don't know how, but they made it work. It was a little expensive though, it was $4 and it was a small size but enough for me to really enjoy myself.
My boyfriend has the Saké ice cream, it's the exact same ice cream except they placed some saké under the bowl of ice cream in another bowl. You can pour as much saké as you can on your ice cream, so that gives you a bit of flexibility on how much you want. I tried it and it was good, but not as good as my Early Grey.
I'm going back next week for lunch with the same friend who introduced me to this fab restaurant. I'm definitely going to try something new even though I'm really tempted to get the Teriyaki burger again but honestly, everything they make there looks so good. And so far, I haven't been proven wrong.